The Microsoft Exchange Server 2010 writes all processes – before it enters them into its database – in "transaction logs". From these logs, the entire database can therefore be reconstructed in the event of damage. But I don't want to go into this in detail – if you are interested in this, you can read more about it here: link. The real problem is that these logs can eat a lot of memory over time. Read here how to free it.
After only 3 months, we had about 37.000 log files of 1MB each. This results in about 37GB disk space consumption. For comparison: The actual database needs 7GB.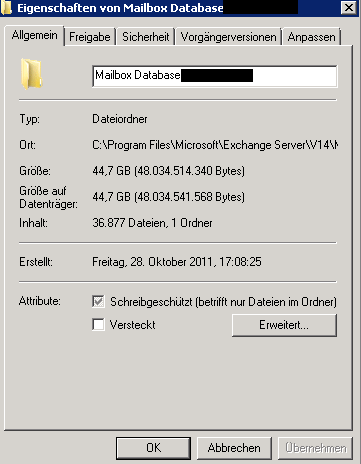 How long are these logs kept or how do you get rid of them?
The answer is: The Exchange 2010 logs are kept until a backup program (for example, the native "Windows Server Backup") sets a flag on the file that tells the system that the file has been backed up.
This has led me (fortunately!) to an error in our backup configuration. After this was fixed, I immediately had a backup done. Thereupon the log files were also deleted from the system bit by bit. What remained was the database file and a few other files needed by Exchange.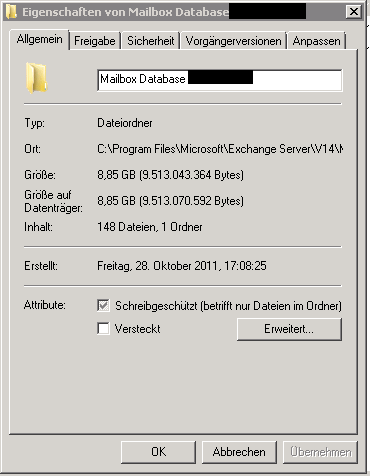 TLDR – Summary
If the log files of the Exchange Server eat up the hard disk space of the server, you should check the backup configuration. If an (Exchange-compatible) backup program is run regularly, the log files are also deleted regularly.
Disclaimer: This post has been automatically translated with www.DeepL.com and originally was posted in the authors german blog